Hall of Fame
Janet Dailey
The birth of modern women's soccer.
Do we not remember in the disco years how strong we were?
What about female soccer in 1975? Many around those years experienced the SST's. A female team like never before.
It all began with Melissa Aveldson, the wife of Oscar award winning director of the movie Rocky, John Aveldson when she walked into designer and professional soccer player John Stavros' store Sport on 17th street Manhattan , demanding him to start a female soccer team. John was then a top player of the Local Leagues and Pro Player, Hall of Famer at LIU, looked at her and agreed to her demands.
John being the coach at Hunter College had the facilities to train a team in the middle of Manhattan, so he put the word out to disco regulars; Valerie Mahaffey Actress , Melissa AveldsonActress, Kyle Traylor, one of Halstons top models, Marika Molnar, coach of the gymnastics team of Hunter College and another 20 ladies showed up on the first session.
John began to train them, teaching them his love of the game. A problem existed though, as he had no goalie or any other team to play against, there were absolutely no teams or a league in the biggest city in America.
In comes Janet Dailey, his girlfriend and then top model with Elite modeling agency, 6 foot tall, all American blonde from Dayton Ohio.
It didn't matter if she played well in the beginning, soon he would bring in Mickey Cohen, a good coach for goalkeepers and Carlos Scott, his high school friend, an Adelphi university Captain and Cosmos player, to help with the other ladies to begin developing the team.
We had no uniforms so John designed and created an original set of uniforms with leopard print shorts, matching tops and instead of numbers he used letters in back of the jerseys. Next problem, we had no team to play against(!) so we divided the team into the A and B squads.
The stage was set a few weeks after practice where in the indoor tournament of the Italian League at Pratt institute, the team arrived and immediately were greeted by huge applause.
During the break of the semi pro teams,the team was divided in two squads the A and B entered the indoor facility with roses in their hands and the captain went to greet Gino Napolitano the referee and immediately shook his hand and grabbed his ass. Joyce Finney went to greet him on her skateboard, and that was enough to get the crowd to go crazy(!) There was no need to stop us now, the place went Ballistic, and all those in attendance still remember that winter night in Brooklyn. We won the hearts of all the hard-core fans of the New York soccer community.
More games followed at Paterson New Jersey as well as Metropolitan oval. Soon, a team of nurses shows up named the Budweiser Eagles.
A few months later, we heard from a team from Brooklyn NY calling us up to play a friendly game in front of the championship game of the Haitian league. That team's name was the "Super Fs" and in front of 7000 people the SST's were destroyed by the Haitian squad and Janet cried. All of us were upset. White girls against black girls, the crowd loved it and I knew I had something going on even though the score was 7-0.
A week later at practice at Hunter College Gym, Janet's Head almost exploded by a shot fired by Senga or better known as Ally Allen. Before her shot at Janet, she asked if she can play with the team.
No need to talk about Senga, she scored 13 goals in one game at Metropolitan oval to win the New York State cup first ever.Senga a year later was the first female non-American to get a full scholarship at North Carolina university and went on to win three NCAA championships back to back
Michael Jordan was also at North Carolina State University during the same years. Janet went on to Japan for a few months appearing on the top TV show on NHK on the national holiday Sports Day with Japan's top celebrities on the same show, the Japanese audience were surprised that a woman can play soccer.
Brazil followed with their biggest newspaper "Globo" featuring Janet and the SST's in a full-page article, that is before anyone in Brazil would allow a woman to play on a team.
In New York, one of the top newspapers featured Janet on the cover of the Soho news, kicking for the Olympics. No one expected that one day the Olympics would allow female soccer. We were way ahead of our time. Besides doing a few commercials of sports companies one for Adidas, Janet was featured in many publications that helped with promoting women playing soccer while in its infancy.
The press never stopped, but we just didn't have any competition as our team dominated for two or three years 'till we finally created the Metropolitan women's league. At that point Janet's career had blossomed with her modeling and singing career, as well as acting that didn't allow us to continue playing when there was no unity or organization or support from the United States football Federation. Ten years later, a close friend of John's, Chuck Blazer General secretary of CONCACAF paid attention to John's advice and he organized financing the first female USA national team to travel to Italy and play a friendly game. By then Janet was very much involved in her career, and she could not continue to play with her team.
The SST's with the NY Cosmos ended their involvement in the sport. The mystique of Janet and the SST's still continues to this day in the soccer circles and in many clubs, people still remember the glory days of the Cosmos and the SST's. Two of the most recognized teams during the 70's, and those that were around would be more than happy to support, and have Janet be recognized for her work and helping thousands of girls think of the beautiful game.
Our goal back then was to promote the game that perhaps one day would be the game of many young girls, whose father's dreams was that of their daughters playing. Stories of the SST's are still being told around the ethnic soccer clubs in New York City. It would be an honor for the United States football
Federation to pay a tribute to Janet Dailey as she was one of the founding members (along with Melisa Aveldson and Valerie Mahaffey of the SST's) to be honored in a special presentation by being inducted into the Hall of Fame of women soccer.
Janet Dailey still practices what she loves; Health and fitness in her Daily Wellness company.
Women of Soccer is proud to include her in our hall of fame alongside Melissa Aveldson, Valerie Mahaffie, and Senga AKA: Ally Allen.

Ally Allen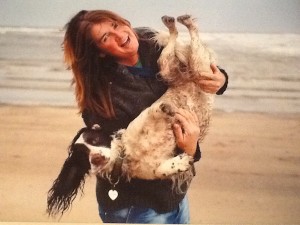 I enrolled as a freshman at UNC in 1982 and graduated with a degree in Education in 1987, although I believe my true calling was journalism. My official name was Agnes Elizabeth Allan although I went by the name of Senga. I did not become Ally until many years later when I started coaching in Scotland. The team I was coaching actually gave me the name Ally because the comedian Billy Connolly had produced this story about "a lassie called Senga. She's been skelly, ever since the Milanda boy hit her on the head with a 'breed' board." Lol
I was a first team player throughout my soccer career at UNC. I won 3 NCAA titles as a player. In my senior year we lost in the final against UMASS. I earned 1 NCAA title as an assistant coach to Anson Dorrance in my 5th year. I remember being awarded All American during my playing career at Carolina but I can't remember what year it was. I guess that was the closest I came to becoming American although both of my sisters became American citizens. That is one thing I regret not doing in my life. I remember during one end of the year ceremony, for a bit of a laugh, my team-mates presented me with a "husband", you know, one of those big pillows that students use to support themselves whilst studying? That was the only way I was going to get to become an American citizen. Anson had said that if I got married and became an American citizen then I could play on the U.S National Team in the Word Cup in China. Another mistake I would live to regret. After graduating from Carolina I moved to Italy to play professional soccer. I would have stayed in the States had there been a pro league… but there wasn't. The team that picked me up was Fiamma Monza in Seria A. After one season, Milan ACF bought me and I moved from Monza to Milan to continue playing in Seria A. I had a contract to return to the States to coach but I had a bad car accident which put me out of the game for an entire year. That's why I returned to Scotland. Had the car accident not occurred, I would probably have returned to the States and coached a college team… and gotten my American citizenship. I don't believe that I would have remained in Italy because I missed America so much. I considered New York my home.
I started my teaching career in Scotland on 22 Nov 1990. Believe it or not John, but school girls soccer did not exist in Scotland at that time. It was only natural that I would coach soccer in the schools in which I was teaching, and I fought a long hard battle to establish the first school girls soccer league in Scotland. The league eventually came under the auspices of the SFA. The Glasgow School Girls Football League was born. There was a tiny wee article about it in the Glasgow Herald. Meanwhile, I was playing for the best team in Scotland which was called Cumbernauld. I then transferred to Cove Rangers with a few of my team-mates and subsequently Cove Rangers became the top team in Scotland. We played against Arsenal for the unofficial British Cup and beat them severely sending them back to England with their tails between their legs.
Shortly after getting my second cap for Scotland I suffered a nervous breakdown around 2000. I was diagnosed with borderline personality disorder (no wonder… With so many different names) lol. Later, I was diagnosed with PTSD (post traumatic stress disorder). I had to give up teaching because of my "illness", and turned to stained glass for therapy. I had excelled as a soccer player, and as a teacher, and I naturally excelled as a stained glass artist. I was awarded the gold medal at the U.K Skills Awards 2 years in a row for different categories, as well as winning other awards throughout my studies in stained glass.
Due to my "difficulties"… for want of a better word, I have been unable to pursue a career in glass so I pretty much live a reclusive life, in a chalet in my garden, creating stained glass pieces… when I can. I consider my life to be over John and while away the hours "tinkering" with glass. I guess that's why I'm so impressed with you…and your seemingly never-ending energy.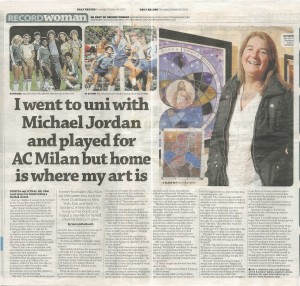 [/izoom][izoom]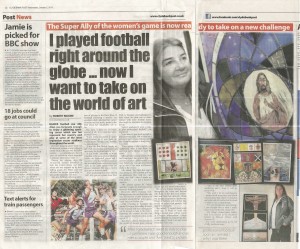 [/izoom]
For more information go to the Art d'Ally Facebook Page
See more at: http://goo.gl/JPbmCj
---

Melissa Avildsen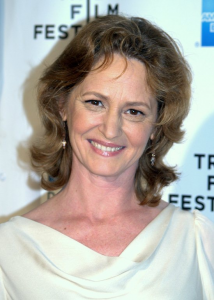 Melissa is the woman responsible for pushing John Stavros to start the world's most famous women's soccer team; the SST's. (Melissa was also a player for the SST's) Started in the 1970's the S.S.T.'s was the first-ever New York City women's soccer team. Comprised of models, actresses, and Studio 54 regulars, S.S.T. quickly gained the attention of soccer fans all over the world. They were featured in magazines, newspapers, TV shows and commercials.
Melissa is married to John Avildsen, acclaimed Academy Award winner for Best Director in 1977 for Rocky is an accomplished actress herself best known for her portrayal of Lucy in the 2013 Film, "A Cube & a Button" Directed by: Beatriz Gutierrez. Further, she is a Victim Advocate in Private Practice with a specialization as: Victim Advocate, Primary Therapist, Victims Assistance Services/Director and Substance Abuse Counseling.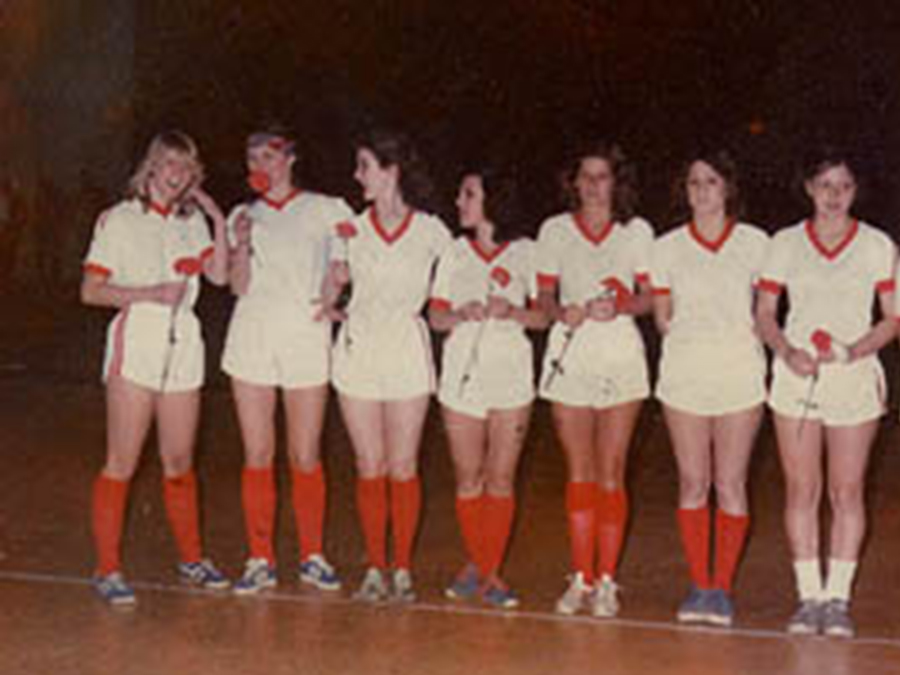 SST's 1st Game verses Budweiser Eagles at Pratt Institute 1977
Melissa Avildsen is Pictured 2nd from left.
---

Valerie Mahaffey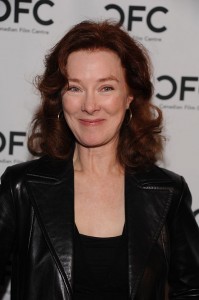 Mahaffey was born in Sumatra, Indonesia and moved to Texas when she was sixteen. She graduated from Austin High School in 1971 and graduated from the University Of Texas in Austin in 1975.
She is married to Joseph Kell, with whom she has one child.
From 1979-81, she starred in the soap opera The Doctors, which earned her a nomination for Daytime Emmy Awards in 1980. From 1992-93 she played in the short-lived NBC sitcom The Powers That Be. She played Tracy Milford in the 1995 film National Lampoon's Senior Trip and Jan Kempster in the 1997 film Jungle 2 Jungle. In 1999 she had a recurring role in the ER. In 2003 she starred in the film Seabiscuit. In 2009, she appeared in seven episodes of United States of Tara.
Her stage credits include Eastern Standard, Talking Heads, Top Girls, and Rex. She co-starred in the feature film Crazy Eyes, playing "Zach's mother."
She has made guest appearances on Seinfeld, L.A. Law, Ally McBeal, Judging Amy, The West Wing, Law & Order: Special Victims Unit, Cheers, Frasier, CSI: Crime Scene Investigation, Private Practice, Boston Legal, Desperate Housewives, Better with You, Glee, Without a Trace, Hannah Montana Forever, and Raising Hope.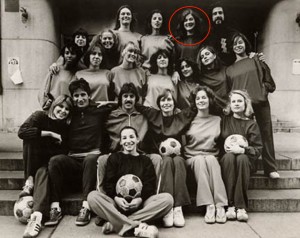 SST's 1st Game verses Budweiser Eagles at Pratt Institute 1977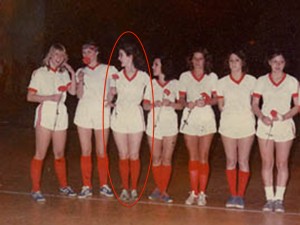 SST's 1979