Janet Dailey
Women of Soccer would like to honor one of the world's premiere female soccer players, Janet Dailey (1975-1985).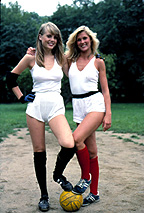 Janet, as the goal keeper of the SSTs, is the most famous female soccer player in the world. Janet was responsible for opening the doors to women in soccer. Not only was she the best female goal keeper, but she was also a top model, singer, actress.
Click here to see a few photos and articles from top magazines and newspapers from all over the world.